Somebody call him the Dolphin
24 Gennaio 2018
cover ph. Karen Righi (Perugia)

 Miki
May 10th 2022 interview by Say What Mag London
micro-bio : Dj and producer with several internationals clubs and events experiences,important italians consoles, discographic successes and big insight to the electronic music system.Aliases: Miki The Dolphin,Major Hypnotic Key Institute,Everywoman,Taguro,2000's Heroes,Pauldiesis,Sport Essence.In band like Photogram.
bio: The media impact due to his strong background, dj-sets of intensity and interest, along with music productions, from techno to chill-out in particular as Miki The Dolphin and Major Hypnotic Key Institute, always create attention around MIKI, highlighting his concept of music versatility, an important aspect for the development of today's Dj culture. The constant research, the great resonance intuitions and a natural talent for djing, see him among the architects of the electronic movement, one of the most active and avant-garde. He has played in some important locations worldwide such as Amnesia Ibiza, Maniac Love Tokyo, Mozinor in Paris, AttitudeNocturne Switzerland a long list and, whereas in Italy he's been one of the very first djs to give life to clubs like Jaiss, Insomnia, Duplè, Satellite and Taotec, as well as phenomena like Mezzanotte-Mezzogiorno at Club Imperiale, The West and events like Exogroove, Torquemada and many others. He has produced music for labels such as DBX, Interactive Test, and some of his records have been reevaluated in recent times by many important DJs worldwide. In 2016 Leonardo Brogi brought him back to important consoles, with his residency at Mind Club in Empoli, where Miki has unveiled powerful dj-sets and great consensus; in parallel thanks to his discography, Marvin & Guy with the supervision of Romano Manfredi (DJ Tennis)  at the release of Life of Marvin (Volume 3 Miki The Dolphin) of tracks like Apple, that a crew of big djs are playing worldwide, together with others, also unpublished, and in clubs such as Nitza in Barcelona, of the one night Evolution. Also from his more techno-orientated discography coming from experiences on Interactive Test to the attention of DJs like Alex Picone (Seekers Records),Tinì, Onur Ozer and so on; Giovanni Verrina has produced Howl Records #13 dec.2018 through Yoyaku Distribution Paris with new and cult songs by his gold catalogue. It's in the current DJSET that the tam tam has become pulsating, a truly impressive psychedelic spiritual journey, Miki's Major Hypnotic Key Institute©️. Miki's own Sun Generation, a label always looking for new sounds and talents. Collaborations with various other labels, the creation of soundtracks for documentaries, remixes for bands and producers , humanitarian projects and related to the development of music stages in Africa, in partnership with Free Spirit Madrid and its Musical Editions. In June 2018 he joined Reflex Booking his agency in Italy with great goals like Tinì Sound Garden, Ganesha, Reflex Club, B2 Hangar, Ralf in Bikini, Bella Ciao. Since 2018 as a dj, producer and a&r for Seekers working worldwide with Gianna Sasso (Berlin) and performances in Club Der Visionaere, OD:Vod Festival, Underground Club ibiza, Seekers Show-Cases. Dj Jane Fitz invited him as the first guest for the 2019 season for her residency night at The Pickle Factory in London and Tenax's Nobody's Perfect as dj guest at the legendary Italian Club in Florence.
Last period: During 2020\2021 he worked hard producing 6 vinyls as Miki on different labels, giving a great sign of activity and energy to the whole system: Outer Place Records with an ep named Screen Slaves Posology, Spazio Tempo called Indigo Ancestry, Life of Marvin volume 4 with Francesco Farfa containing his "must have" remastered Templares (TEMporary Low Audible RESonance) and a remix by Gerd Janson and Shan; the track Imprinting Day in a limited edition with Alphonce on Kalahari Oyster Cult Amsterdam and the O.C.D presents The Secret Sun with a project called The 7 Kumaras . He has also worked with high intensity alongside Alex Picone on the release of Seekers 08, a triple vinyl (green, blue, red) called Flash Dynamic Triade Color Test + 7" + tape which contains also a track of his called Cavern. Bepop vinyl label a&r too by his friend dj-producers Niki Il B . His unique and by choice online/streaming appearence on the Mudd Show at Opal in Milan with his spiritual sister Jane Fitz.
…Club Der Visionaere,Hypersoft \ Renate Berlin, Closer Kiev, Tenax ,Cocoricò (T-Room), Ralf in Bikini ,Oversize Genova ,Komorebi Festival Alessandria , Magick Bar Rome, Sound Club Pontedera (Pisa) ,Sound Department Taranto, Mad Radio invites seekers Barcelona,Space Di:vision (CH), Sigh (Madrid), Tante Emma (innsbruck) Art of Dark (London)….
Booking info:
gianna@nt-booking.net (other countries)
leonardo@reflexbooking.com (italy)
productions as: Miki, Major Hypnotic Key Institute, Miki The Dolphin, Photogram, Taguro, 2000s Heroes, Pauldiesis
on labels like Sun Generation, Interactive Test, Seekers, Howl Rec., Life of Marvin , O.C.D the Secret Sun and others;
He keeps on djing in clubs with an underground essence, a music outfit that he prefers for the contact created through his dj-set never predictable, where hints of his high-level background and continue avant-garde and technique are cunningly mixed, sometimes in a total psychedelia, sometimes in a more natural reality.
He commits to composing soundtracks and documentaries editing, like the one for Robydamatti in 2013 or for Drain Brain experiment by Professor Paolo Zamboni his lovely brother with astronaut Samantha Cristoforetti in 2015 and also in music related research and DJ sets in the 432Hz frequency with ambient and esoteric directory.
Short Bio by Komorebi Festival:
Miki
travels through electronic music. House and techno, weaving all his immense background and his creativity. A multi-faceted DJ, always evolving and a lover of fun for the people, the synthesis of this fantasist of the dj booth. His style as a DJ spreads through his unmistakable attitudes from the quality micro-club to the big festival, succeeding in the uncommon mix of genres, interpretation of the location, with a technique that also takes into account the harmonic aspects together with the rhythmic ones and a pleasant taste for psychedelic sounds. Miki has always been an avant-garde DJ with intuitions and continuous research, which has also led him to his activity as a producer. A&R and producer for Seekers he produces music on big vinyl labels like Interactive Test, Life Of Marvin, Howl rec., Kalahari Oyster Cult, Spazio Tempo, Outer Place with a great activity with acknowledgments and an even greater esteem from the whole music system.Founder of Sun Generation Records, his own label that he started in 1999, he has always found talents by placing music at the centre and seeking interactions in world music and jazz.Lately he's worked in clubs like CDV and Renate in Berlin. Tenax , Cocoricò (T-Room) and Bella Ciao or Komorebi festival in Italy. He receives love from many DJS and clubbers of the new generation, with his gratitude to be an inspiration for many of them. Keep it up!
.
Booking Italy : leonardo@reflexbooking.com


MIKI
short-bio
Miki viaggia attraverso la musica elettronica. House e Techno, intrecciando tutto il suo immenso background e la sua creatività. Un dj poliedrico, sempre in evoluzione e amante del divertimento per i clubbers, sintesi di questo fantasista del dj booth. Il suo stile di dj si diffonde attraverso le sue attitudini inconfondibili dal micro-club di qualità al grande festival, riuscendo nel non comune mix di generi, interpretazione della location, con una tecnica che tiene conto anche degli aspetti armonici insieme a quelli ritmici e un piacevole gusto per i suoni psichedelici. Miki è sempre stato un dj d'avanguardia con intuizioni e continua ricerca, che lo ha portato anche alla sua attività di producer. A&R e producer per Seekers e  per grandi etichette in vinile come Interactive Test, Life Of Marvin, Howl rec., Kalahari Oyster Cult, Spazio Tempo, Outer Place con una grande attività ,riconoscimenti e stima da parte di tutto il sistema musicale. Fondatore della Sun Generation, label nata nel 1999, ha sempre scovato talenti mettendo al centro la musica ,cercando interazioni nella world music e nel jazz. Ultimamente ha suonato in club come CDV e Renate a Berlino, Tenax, Cocoricò (T-Room) e Bella Ciao o Komorebi Festival in Italia. Riceve amore da molti DJs e clubbers della nuova generazione, con sua gratitudine per essere d'ispirazione per molti di loro. Keep it Up!
bio-story
L'impatto mediatico dovuto al suo importante background , djset d'intensità e di interesse, insieme alle produzioni di musica, dalla techno all'ambient in particolare come Miki The Dolphin e Major Hypnotic Key Institute , creano da sempre intorno a MIKI attenzione , mettendo in evidenza il suo concetto di polivalenza musicale ,un aspetto importante per lo sviluppo della dj-culture odierna .La costante ricerca,intuizioni di sonorità ed un'innato talento per il djing lo fanno essere, tra gli artefici del movimento elettronico, uno dei più attivi e d'avanguardia. Ha suonato in alcune importanti locations mondiali come Mozinor a Parigi ,  l'Amnesia Ibiza, Maniac Love Tokyo, Attitude Nocturne Svizzera,Tenax di Firenze e dato vita in Italia a Club come Jaiss , Insomnia, Duplè , Satellite e Taotec ,a fenomenologie come il Mezzanotte Mezzogiorno del Club Imperiale , il The West .In eventi come Exogroove, Torquemada,Syncopate per citarne alcuni tra i più famosi. Dall'inizio del nuovo millenio ha sviluppato la sua label Sun Generation con 23 uscite in vinile concretizzata oggi in un team di produttori impegnati nel salvaguardare la Musica al Centro del sistema .Ha suonato frequentemente in clubs come Frau a Torre del Lago, 999 a Prato ed in location esterne con feste meravigliose come ad esempio a Salendo (San Galgano) , Terme di Petriolo (Si) con i fratelli Ardenghi (Paola e Kekko), il Party In Chianti insieme a Manuel Fabbri sempre ricercando percorsi e nuove chiavi di lettura .Nel 2016 il manager Leonardo Brogi lo ha riportato su console importanti ,con la residenza al Mind Club di Empoli nella gestione e con la stima di Andrea Doni ,dove Miki ha sfoderato djset potenti trovando sempre crescente seguito nella nuova generazione ; nella produzione grazie alla sua discografia Marvin & Guy  con la supervisione di Romano Manfredi ( DJ Tennis) lo producono in vinile su Life of Marvin (Volume 3 Miki The Dolphin ) disco contenente Apple,Caterpillar,Sacre Graal ,record di vendite a Bordello a Parigi di Amsterdam e sui giradischi di tanti DJs ,ritornando a suonare in Spagna al Nitza in Barcelona primo guest della one night Evolution . Sempre dalla sua discografia più di ricerca , proveniente dalle esperienze su Interactive Test  all'attenzione di dj come Alex Picone (Seekers Records) ,Tinì , Onur Ozer ed altri ; Giovanni Verrina ha prodotto Howl Records #13 dec.2018 distribuito attraverso Yoyaku (Parigi) con una nuova traccia ed altre 'cult' dal suo catalogo.E' attivo nella produzione di remixes e presente nel triplo CD "Songs that Makes us free" dei The Liberation Project (South Africa).
E' nel dj-set che il tam tam si è propagato pulsante ,un viaggio psichedelico, spirituale, il Major Hypnotic Key Institute © di Miki portandolo a  partnership di lavoro con numerose label di settore indirizzate alla produzione di vinile ,Seekers di cui è a&r,Life of Marvin (2018-2021), Howl Records,Outer Place ,Spazio Tempo,Kalahari Oyster Cult e Secret Sun presents O.C.D (2021).
Dal 2018 è parte di Reflex Booking per l'Italia ,protagonista in vari clubs\eventi come Tinì Sound Garden , Ganesha , Reflex Club , B2 ,Hangar , Ralf in Bikini.Dal 2018 come dj, produttore e A&R dell'etichetta solo vinile Seekers , lavora con l'agente Gianna Sasso (Berlino) , worldwide fatta esclusione del territorio italiano e performa al Club Der Visionaere,OD:VOD Festival,Underground Club Ibiza,Seekers Show Case, Nitza Barcelona. Dj Jane Fitz lo ha invitato come primo ospite per la stagione 2019 nella sua serata di residenza alla Pickle Factory a Londra e Nobody's Perfect del Tenax come dj guest presso il leggendario Club italiano di Firenze.
Sfortunatamente la pandemia covid ha fermato molti progetti ma durante il 2020\2021 ha lavorato producendo 6 vinili come Miki su diverse etichette, dando un grande segnale di attività ed energia a tutto il sistema: Outer Place Records con un ep intitolato Screen Slaves Posology,Spazio Tempo chiamato Indigo Ancestry, Life Of Marvin volume 4 con Francesco Farfa,contenente la traccia Templares (TEMPorary Low Audible RESonance) con un remix di Gerd Janson e Shan; il brano Imprinting Day in edizione limitata (esaurito) con Alphonce su Kalahari Oyster Cult Amsterdam e L'O.C.D presenta The Secret Sun con un progetto chiamato The 7 Kumaras (contenete Shamballa.Anse Takamaka e Art Of Libido) .Ha anche lavorato ad alta intensità insieme ad Alex Picone all'uscita del Seekers 08 un triplo vinile vv.aa  (verde, blue, rosso) chiamato Flash Dynamic Triade Colour Test ,più 7″ e tape che contiene anche una sua traccia chiamata Cavern . Ha eseguito per scelta un solo streaming all'Opal di Milano per il Mudd Show in coppia con l'amica Jane Fitz.
#neverstopdancing
Nell'ultimo periodo dj-set presso Club Der Visionaere Berlin, Closer Kiev, Tenax Beach Torre del Lago (lucca) Magick Bar Rome.Sound Club Pontedera (Pisa) ,Sound Department Taranto, Tenax Firenze, Mad Radio invites seekers Barcelona,
Attività parallele
!n progetti Umanitari con l'associazione Street Spirits ,uno stage di musica in Africa interazione tra musica elettronica e strumenti tradizionali, con festa finale a KK Beach. .
L'organizzazione della partecipazione di Sosolya Undugu Dance band di musicisti e ballerini del ghetto di  Kampala al Festival Sauti Za Busara,il cui successo ha sviluppato per la band tour in Germania e Canada.
Si dedica a colonne sonore ed editazione di documentari , come quello del 2013 per l'atleta Roberto Bruzzone "il camminatore con la gamba in spalla" e per Drain Brain con l'astronauta Samantha Cristoforetti , alla regia del video Wind of Change,sempre a supporto delle attività mediche e di ricerca del suo amato fratello il Professor Paolo Zamboni, insieme agli amici Arturo Pellegrini,ingegnere del suono e riprese ,Federico Pacciani fotografo e riprese ed ai musicisti classici Anna Serova , Maestro Roberto Molinelli e le ballerine Melania Larturo <3 e Ivana Caffaratti .
Si dedica anche a ricerche e djset inerenti musica nella frequenza dei 432hz che lo ha portato ad interagire con Natalia Aestene e DolceVita Society Ibiza.
Gli anni '80
Nel 1980 vince un concorso per diventare il dj della domenica pomeriggio alla discoteca Pink Panther di Ferrara , dopo un'estate di gavetta al Barracuda del lido di Spina del patron Franco Piazzi ed altre esperienze minori. Dopo pochi mesi a soli 18 anni è resident anche il venerdì e sabato sera della discoteca allora condotta dal mitico gestore padovano Emilio Masiero. Filiberto Graziani lo porta alla discoteca Feeling Up sui lidi ferraresi con art director Stefano Albini nel 1982 dove inizia a farsi conoscere. E' alla discoteca Sporting lido delle Nazioni e poi alla Mela di Ferrara intorno al 1986 che Miki concretizza un suo stile, basato sull'elettronica, la vena funky afro insieme alla grande attrazione per la New Wave e l'esperienza come cantante, oltre che sax ,composizione e testi del gruppo Photogram fondato con gli amici Andrea Melly creativo musicista e Derio Stasi (percussioni) e poi sviluppato in una band di più elementi con Dario No Name (batteria), Bax Vanni (basso) , Isa Ravani (tastiere) e il mitico Franz Cavallini (chitarra),lo indirizzano verso la costante della ricerca .Riscoperti nel 2019 ed inseriti in una collection di gruppi anni 80 che contiene anche un'altra band ferrarese i "No Name" ed altre di interesse :391 vol.8 Emilia Romagna Voyage Through the aDeep 80's underground su Spittle Records .  https://www.youtube.com/watch?v=BpXJoqTrjqQ 
Nel 1988 approda al Bahia's Club dell'Isola d'Elba con l'amico dj e cantante Alessandro Mingozzi .Antonello De Muro artista ,personaggio di grande rilievo sull'isola ed art director del mitico Club 64 cogliendone da subito le capacità l'estate successiva li porta come residents ed insieme daranno vita ad alcune delle estati più belle in assoluto dell'isola ;  è la prima grande soddisfazione professionale fuori dalle mura della sua città per il dj e produttore ferrarese che nel breve evolverà al Club Imperiale di Tirrenia nel mezzanotte-mezzogiorno ,nelle Rave e Party della Cosmos Fact a Parigi ed Ibiza. E' l'inizio degli anni 90…
original cassette's cover , THE SOUND OF TIRRENO by MIKI 1991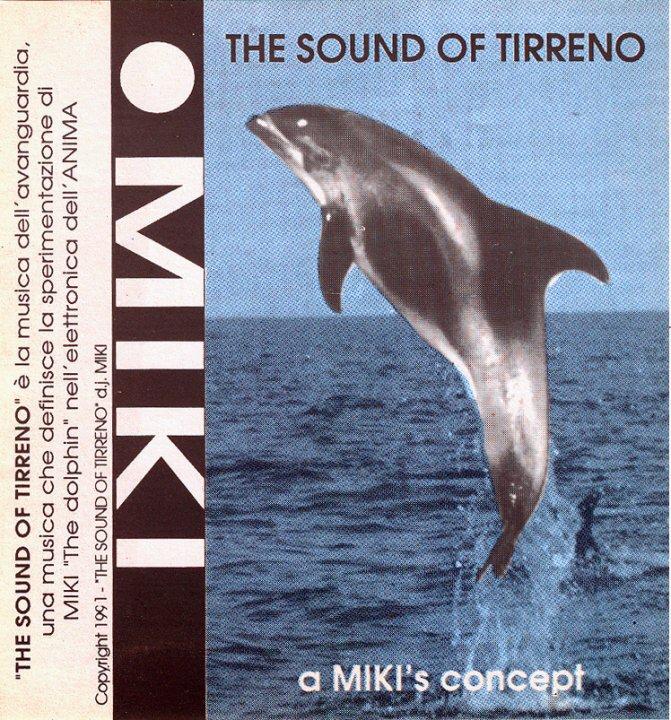 appendice: intervista in italiano di Damir Ivic a Miki durante High Experience – Livigno 2020